The Truth About Weddings In America
Couples in 2017 spent an average of $33,391 on a wedding and that doesn't include the honeymoon, with big spenders averaging a budget of $105,130
The average number of wedding guests has actually gone down to 149 in 2009 to 136 in 2016, with the cost per guest increasing to $268
The bride's family still contributes the most, about 45% of the overall budget, with the bride and groom themselves paying 41% and the groom's parents contributing about 13%
There's no doubt a lot of couples got engaged yesterday on Valentine's Day, and they better start putting their money away immediately because if they want a full-blown wedding it's going to cost them. The Knot's annual Real Wedding Study surveyed close to 13,000 couples who got hitched in 2017 to uncover the truth about the big day, and it seems the average wedding cost is pretty ridiculous.
Couples in 2107 spent an average of $33,391, and that doesn't include the honeymoon, but big spenders, defined as couples spending $60K or more, averaged a whopping $105,130. Weddings are getting a bit smaller though, with the average number of guests decreasing from 149 in 2009 to 136 in 2017, at an average cost of $268 per guest.
As for who pays for the wedding, as tradition dictates, the bride's family still shells out the most, contributing 45% of the overall budget, with the bride and groom themselves paying 41% and the groom's parents contributing about 13%.
Other wedding statistics include:
Average Spent on a Wedding Dress: $1,509
Average Marrying Age: Bride 29.3; Groom, 30.9
State with the Oldest Brides: New York (boroughs outside Manhattan) 33.2
State with the Oldest Grooms: New York (boroughs outside Manhattan) 35.4
State with the Youngest Brides:

Utah and Central Illinois 26.4
State with the Youngest Groom: Oklahoma and Iowa 27.8
Average Number of Bridesmaids: 5
Average Number of Groomsmen: 5
Most Popular Month to Get Engaged: December (16%)
Average Length of Engagement: 14 months
Most Popular Month to Get Married: September (16%), June (15%) and October (14%)
Average Cost of an Engagement Ring: $5,764 ($13,933 for big spenders)
To check out the full breakdown, click here.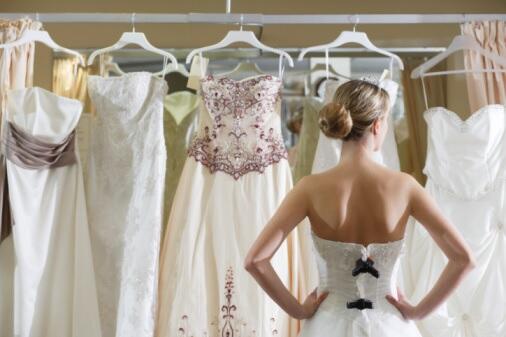 Jessica
Want to know more about Jessica? Get her official bio, social pages and articles!
Read more