Decorating Early For The Holidays Make You Happier
Some people believe that Christmas shouldn't rear its tinsel-covered head until after Thanksgiving, but it turns out those who bust out the lights and set up their trees early might actually be happier. And that's because they're more nostalgic and just a kid at heart.
"In a world full of stress and anxiety, people like to associate to things that make them happy and Christmas decorations evoke those strong feelings of the childhood," explains psychoanalyst Steve McKeown. "Decorations are simply an anchor or pathway to those old childhood magical emotions of excitement. So putting up those Christmas decorations early extends the excitement!"
Psychotherapist Amy Morin says that the nostalgia the holidays brings out can provide positivity too. "Nostalgia helps link people to their personal past and it helps people understand their identity," she explains. "For many, putting up Christmas decorations early is a way for them to reconnect to their childhoods."
So before you start shaming someone for putting up their tree before Thanksgiving, remember all that early decorating could make them happier than the Scrooges who wait longer to hang their garland and ornaments. And if decorating your house for the holidays brings more cheer and joy, let's get busy because we could all use more of that.
Source: Unilad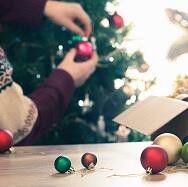 Jessica
Want to know more about Jessica? Get her official bio, social pages and articles on 101.7 The Bull!
Read more